The little bathroom at the back of the house was the room I hated the most. Now it just might be my favorite room in the whole house. (Although, in fairness, every time I finish a room that room becomes my favorite.)
And so without further delay, I present the obligatory mouseover before-and-after photo. The before is what the room looked like when I moved in.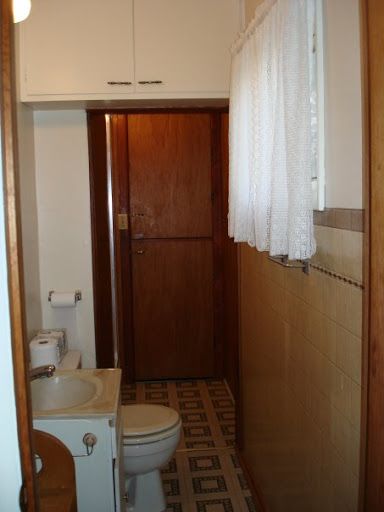 And more photos...

A better look at the main part of the bathroom.






And now I'm gonna have to find another room to hate on. I have just the room in mind...and it's actually far worse than the bathroom ever was...
SOURCES
Vanity: Lowe's
Chair rail: Nerd's Hardware & Home Center; Lexington, Mo.
Trim corners: Home Depot
Beadboard wallpaper: Lowe's
Tin ceiling wallpaper (not shown): Home Depot
Mirrored medicine cabinet: Home Depot
Towel bar, toilet paper holder & faucet: WalMart
Bird hook, bath sign, vanity knobs: Hobby Lobby
Blue paint: Valspar LaFonda Mirage; Lowe's
White paint: Valspar Gilded Linen; Lowe's
Teal paint: Valspar Fish Story (Porch & Floor Paint); Lowe's
Stencil: Hobby Lobby
Framed bird prints: Hobby Lobby
Waffle-weave shower curtain (not shown): Target
Towels: HomeGoods